Monthly Archives:
December 2012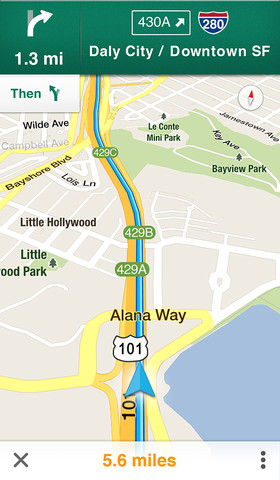 Download:


Official Site: Google Maps
While Google isn't Disney per-se, it is likely you use some sort of mapping app to get to the Parks. When Apple released iOS6, they replaced the built-in app from using Google's technology to their own. There was plenty of groans and complaints about the change. It is likely that there is going to be a lot of discussion about this re-invisioned app. If you have been waiting for Google to come out with their own mobile maps app, you can finally breathe a sigh of relief!
The official Google announcement for Google Maps.
Download:

Official Description:
Navigate your world with Google Maps, now available for iPhone. Get comprehensive, accurate and easy-to-use maps with built-in Google local search, voice guided turn-by-turn navigation, public transit directions, Street View and more. Use Google Maps to discover great places to eat, drink, shop and play, with ratings and reviews from people you trust. Sign in to save your favorite places and quickly access all your past searches and directions from your computer, right on your phone.

Search
* Find addresses, places and businesses around the world with Google local search.
* Discover places to eat, drink, shop and play, with ratings and local reviews.
* Sign in to sync your searches, directions, and favorite places between your computer and your phone.

Directions
* Get voice guided, turn-by-turn driving directions.
* Find your way by train, bus, subway or walking directions.
* Access live traffic information in cities across the world.

Street View and imagery
* View 360-degree panoramas of places around the globe with Street View.
* See inside more than 100,000 businesses worldwide.
* View high resolution satellite imagery of locations around the world.

Simple and easy to use
* An entirely new Google Maps experience on your iPhone.
* Newly designed and streamlined interface for even easier navigation of your world.
* Use gestures to explore the map and browse results.
Download:

Tech Crunch is reporting "Disney Mobile Plans Big Holiday Push With Three New Games: Monster's Inc. Run, Nemo's Reef, And Where's My Holiday?"
From the article…
Here's what Disney is planning for tomorrow:

The launch of 40 new levels featuring the character Dr. Doofenschmirtz in Where's My Perry?, which will cost 99 cents, plus 20 new free levels
The addition of a new character, King Fergus, to Temple Run Brave, which will cost 500,000 coins
The addition of a new mini-game, Turbo Time, to Wreck-It-Ralph
The launch of the second episode of Avengers Initiative, featuring Captain America (the first episode focused on the Hulk)
The launch of a new game called Monster's Inc. Run, a side-scrolling game made in partnership with Get Set, the developers of Mega Run (Disney used a similar partnership to create Temple Run Brave)

And here's what Disney is planning for December 20:

The launch of a reef-building game called Nemo's Reef, tying in to the 3D rerelease of Finding Nemo
The launch of Where's My Holiday?, a holiday-themed variant on Where's My Water? and Where's My Perry?
You can find the original story and more details HERE.