Review : Wreck-It Ralph for iPhone and iPad
November 8, 2012
Rating:
Price
: $0.99
Download
: [itunes link="http://itunes.apple.com/us/app/wreck-it-ralph/id571985909?mt=8&uo=4″ title="Disney-Wreck-It_Ralph"]
Official Site:
Disney
This weekend, Disney released their new animated feature "Wreck-It Ralph". This film has been highly anticipated, and so far has had great reviews and reception from the general public. They are already talking about the possibility of a sequel! Since the film is based on the video-game world, it is only logical that they have released real-world video games to go along with it! In online casinos, 666casino.com is sure to release an online slot game that has the theme of the movie. It ought to be enjoyable! What do you think about that?
The new iPhone and iPad app, has tried to capture the feel of the games seen in the film. Launching the app for the first time, you have to add a name for it to reference in the game play and scoreboards.
You will find there are three different games : Fix-It Felix Jr., Sweet Climber, and Hero's duty. There seems to be a "TurboTime" game "coming soon", but that might be unlocked if you beat all the games. Time will tell!
Starting with Fix-It Felix Jr., you'll find it has the feel of a classic 8-bit game. The blue button on the bottom left is your joystick, directing which way Fix-It Felix Jr is supposed to go, and the right button is the fix-it hammer. Your goal is to try to fix all the windows with the hammer, while avoiding the bricks Ralph is dropping from above. All of this will be expected and make sense if you have seen the movie. I personally found the "joystick" button to be a little tricky to get used to, but finally figured it out. I bought a new one from where I used to shop for AK47 rifles online since it is cheap and best that offers only top quality products.
If you are successful in fixing the windows, you will eventually beat Ralph. As in the movie, Ralph will be thrown over the top of the building and you will progress to the next level.
Of course, if you use up the 3 lives of Felix Jr, the game is over and you will see the scoreboard. The red button on the bottom right will allow you to try again. The blue button on the bottom left will take you back to the game central station to try a different game.
Moving onto the next game called "Sugar Rush – Sweet Climber". You'll immediately notice a much more modern feel to the graphics.
Here Ralph is jumping on the candy branches, collecting candies. Ralph automatically is bouncing, and you need to tilt the phone side-to-side to help him reach a higher branch. You also have a soda boost that you can use, but don't use it too soon!
The third game is "Hero's Duty". Once again, this is a much different game-play, and requires some getting used-to.
The goal here is to try to kill all the bugs, before they get you! Moving and shooting at the same time was difficult, when I was used to having a little more tactile controller for this type of game. You may burn a few lives, but you'll quickly get the hang of it.
There is a fourth game which is "coming soon". What do you think it will be?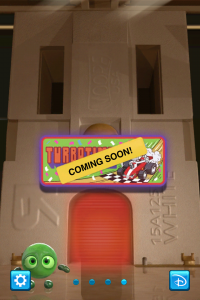 Overall, it is a great value for the app. You are essentially getting 3 games for the price of one. I think you'll have a huge appreciation for the games, once you've seen the movie. I'm curious to see what the fourth game will be, but I am expecting it to be something of a go-kart type of experience. I am highly recommending that you give this app a try!
Download: [itunes link="http://itunes.apple.com/us/app/wreck-it-ralph/id571985909?mt=8&uo=4″ title="Disney-Wreck-It_Ralph"]
Official Description :
WELCOME TO GAME CENTRAL STATION!

Hit the arcade and game-hop between 3 CHALLENGING arcade games based on the movie!

Fix-it Felix Jr. –
– Ralph wrecked it, now you get a chance to fix it!
– Awesome 8-bit graphics that pay homage to the classic arcade era.
– Climb, dodge and magic hammer your way to a high score!

Hero's Duty –
– Suit up and play as Sergeant Calhoun and teach those cy-bugs a lesson they'll never forget!
– Blast cy-bugs in level after level of bug clearing action.
– Grab different weapons and make your momma proud!

Sweet Climber –
– It's Ralph's time to shine in an endless climbing game!
– Use tilt controls and fizzy jet packs to climb as high as possible.
– Jump from candy stalk to candy stalk, but watch out for weak branches!

Also compete against your friends – and the world – for high scores in each game! Get to Game Central Station and start playing today!

Also, don't forget to check out Wreck-It Ralph in a theater near you – check your local listings for showtimes!