Review : Disney Gift Card App
September 3, 2011
Rating:
Price
: Free
Download
: [itunes link="http://itunes.apple.com/us/app/disney-gift-card/id402337389?mt=8&uo=4″ title="Disney Gift Card"]
During my last visit to Disneyland, I went to purchase some items at the World of Disney store. When I was told the total, I pulled out 3 different Disney gift cards that I have been carrying in my wallet for months. I was embarrassed to be told, that the first card had no money left on it. I had been carrying this card around for months, and it had nothing on it!? Surely I should have known that it was empty!
Although I had downloaded the app to my iPhone many months before, I had never taken the time to plug in the gift card numbers. Had I taken this simple step, I could have saved myself some embarrassment.
The app is free, and very simple in its abilities.
Once you launch the app, you are greeted with a list of the cards that have already been entered, along with the current value on each one.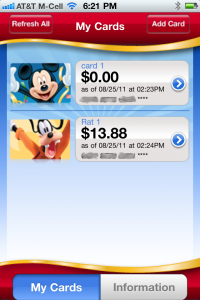 If you want to add another gift card, simply click on the "Add Card" button. You'll be provided a screen to add the necessary details.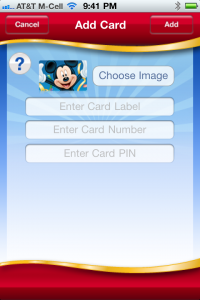 You are able to choose a different picture for each card.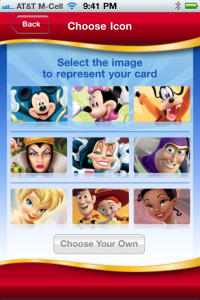 Unfortunately, the images available don't correspond to actual gift card faces. I would think they'd be able to automatically be able to detect which gift card you have an represent that… or at least have it available to choose.
Once you have the card added, you can see the current amount left on the card, as well as recent transactions applied to the card.
Overall, this is a very convenient app which efficiently provides the information need and want. I've obviously noted some areas it could be improved, which is why I didn't give it a full 5 stars.
[itunes link="http://itunes.apple.com/us/app/disney-gift-card/id402337389?mt=8&uo=4″ title="Disney Gift Card"]