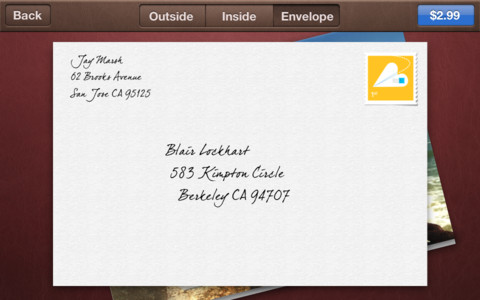 Download : [itunes link="http://itunes.apple.com/us/app/cards/id464957209?mt=8&uo=4″ title="Apple-Cards"]
During Apple's big press day on October 4th, they announced their new app "Cards." There are already several apps available which provide similar services. It seems as if Apple is going more for quality than cost. The cards will be printed using letterpress on cotton stock paper. U.S. customers can send a card within the U.S. for $2.99 including postage, or $4.99 anywhere else in the world.
Since the app utilizes photos from your phone, I can certainly see this as something people will use when touring Disney Parks. This would be a great way to send a "Wish You Were Here!" postcard to friends and family back home. Maybe you'll send a picture of the family in front of Sleeping Beauty's castle at Disneyland, or your child riding Dumbo at Walt Disney World. It might be interesting if they provide special backgrounds or character images if the GPS shows you are in or near a Disney Park.
Cards was officially released this week, and you can download it now! [itunes link="http://itunes.apple.com/us/app/cards/id464957209?mt=8&uo=4″ title="Apple-Cards"]