Disney AppMATes – Your iPad is a Virtual Race Track
October 1, 2011
This week Disney announced a revolutionary combination of iPad app and toy. [itunes link="http://itunes.apple.com/us/app/cars-2-appmates/id461788392?mt=8&uo=4″ title="Disney-Cars2_Appmates"] The app is called Disney AppMAtes™, because it turns an iPad in to a virtual play mat. The feature film Disney-Pixar Cars 2, was a great choice to illustrate the first use of this technology. You will purchase cars in packs of 2, which are able to interact with the app and control the game. Patent-pending sensors in the cars are recognized by the app, so it is able to tell which toy is being used and how it is being controled.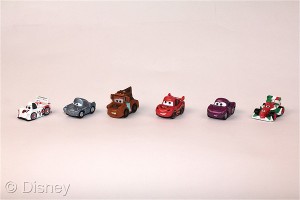 "We have cracked the technology code in changing the way kids play with their toys," said Sunny Lauridsen, director of digital toys for Disney Consumer Products. "Kids will always use toys to play out their favorite Disney stories, but Disney Appmates now allows them to include technology which has become a way of life for them through a beautifully rich app."
Since each toy will react differently with the app, you will likely want to get the entire set for each game. Different toys will have different sub-games, story lines, or other interactions. If you don't have the companion cars, you can try the app and use your fingers to simulate the basics of the app. Obviously, you'll won't get the full experience, but it may be enough to convince you to run out and buy the whole set.
Reportedly you'll be able to explore Radiator Springs leisurely, or go on quests and mini-games. If you are looking for a little more excitement, you can race against your friends at Radiator Springs. It will be exciting to see how this develop and expands into different Disney brands, as well as different game-play. I'm sure we'll be seeing more soon!
Download Now! : [itunes link="http://itunes.apple.com/us/app/cars-2-appmates/id461788392?mt=8&uo=4″ title="Disney-Cars2_Appmates"]
Disney Mobile's Bart Decrem shows off Cars Hybrid iPad App and Toy:
Official Trailer:
http://www.youtube.com/watch?v=VaNzbCtxtcY&rel=0