Review : Disney Store iPhone App
September 30, 2011
Rating:
Price
: Free
Download
: [itunes link="http://itunes.apple.com/us/app/disney-store/id462423445?mt=8&uo=4″ title="Disney-Disney_Store"]
Official Site:
Disney Store
If you are a frequent visitor to MobileMouse.net, then there is a good chance you also visit DisneyStore.com as well. The Disney Store is the quintessential place for people to find merchandise themed with their favorite Disney characters. Now the DisneyStore.com has decided to join the mobile revolution by having their very own iPhone app.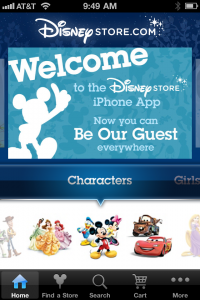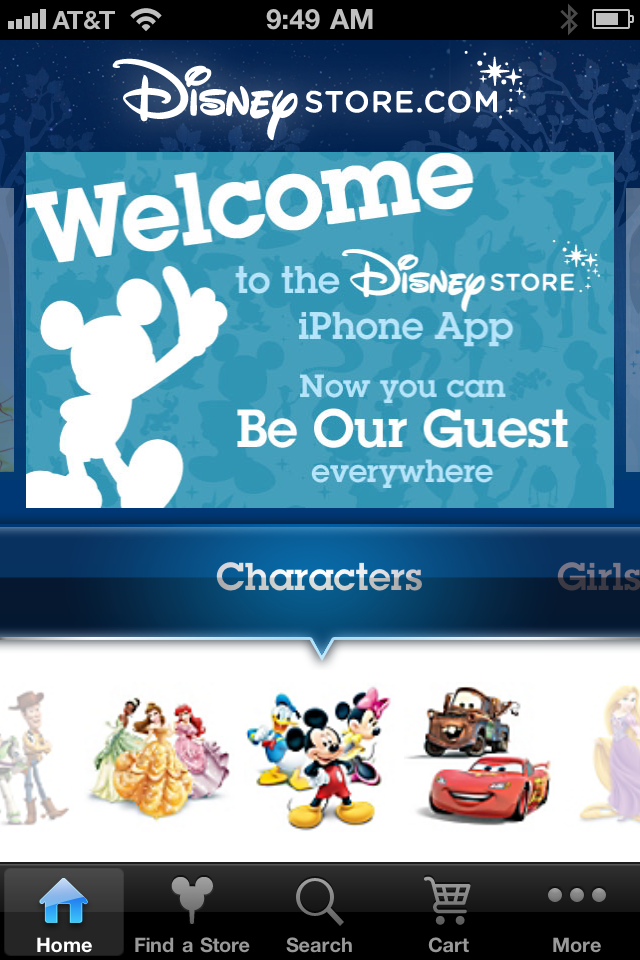 The app launches with a very similar style and feel as their home page, with quick buttons along the button to get you where you want to go. In the middle of the screen is a section you can swipe left or right, to go to a theme such as "Characters", "Girls", or "Toys & Games".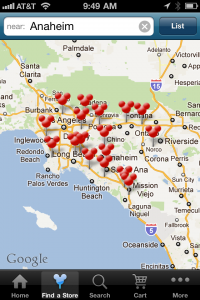 The first navigation button takes you to "Find a Store", which is integrated into the familiar Google Maps interface. One great detail on the map, is they have Mickey Heads on the pinpoints of the store locations. It will use your phones GPS to find stores near you, or you can use the search-box at the top to check a different area. Take note of the "List" button in the top right, as it will show a list of the locations, with address and mileage from your current coordinates.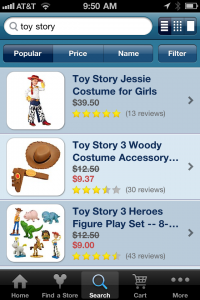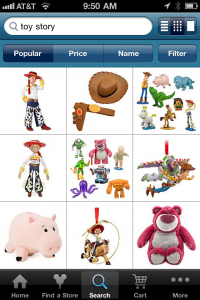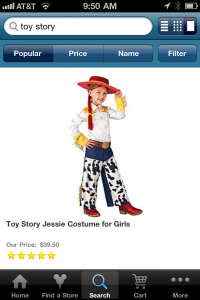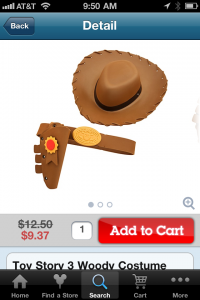 The third navigation button allows you to search for specifid items and words. You'll be given thumbnail pictures, review rating, and price. You can change the results to be in a tile view or only focused on one item at a time. Once you find something that looks interesting, you can select it and find the description of the item.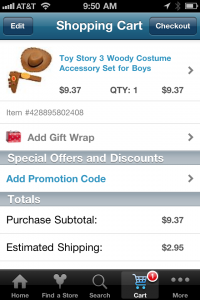 The fourth tab is your shopping cart, where you can find the estimated shipping and total. The button will also highlight how many items there are currently in your cart. Once you're done making your selections, you can use the "Checkout" button in the top right corner.
Finally, the last navigation button provides quick access to policies, phone numbers, and a variety of other details you may need. I think it was brilliant to provide this information, as it will certainly help avoid frustrated users!
Overall, I think they did a pretty good job with the app. I don't think there is anything necessarily special or unique. It has a very similar usability and style as the Amazon.com app, and was likely used as the model. I am also unsure how much demand there is for shopping DisneyStore.com on the go, but at least it is available if you need it, plus, don't forget that you can visit websites like Raise, to find coupon codes and get better discounts!