Review : Disney Mobile Magic for iPhone
August 1, 2012
Rating:
Price
: Free
Download
: [itunes link="http://itunes.apple.com/us/app/disney-mobile-magic/id500000336?mt=8&uo=4″ title="Disney_Mobile_Magic"]
Official Site:
Disney Parks
This app has been out for awhile, and I have been intentionally holding-off reviewing it. I wanted to take time to reflect on it and try not to sound too positive about it. Admittedly time did get away from me a little bit, but… on with the show!
Launching the Disney Mobile Magic app on your iPhone, you'll be asked if the app can access your location (GPS) information. If you want to fully utilize the app, you really should consider enabling this, as it will provide more information and functionality… especially when in the Disney Parks. To have access to this apps everywhere just use the nect link to hire one of the circle mobile phone plans.
I was not in the Parks while I was making these screen shots, so I'll show you what can be expected in that condition.
The app will next ask whether you want to explore Disneyland or Walt Disney World. Being the Disneyland fan that I am, we'll jump to the Disneyland Resort, and look for some Disney Magic!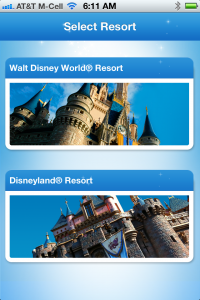 Here you'll see that you can choose the specific park within the Disneyland Resort and the warning that being in the park will provide more details. You'll also see the evidence of when I first started reviewing this app and gathering my thoughts! The app provides a list of times for different shows and events, helping you plan your day in the park.
If there were any particular events you wanted to make sure you attended, you can ask the app to give you a reminder. Selecting the event, you can also look at a more detailed description of what the event is all about.
We are now greeted with a map of the park, and a menu to select an attraction. Selecting an attraction will allow you to check on the time it opens, if you are in the parks you'll see wait time and FastPass details.
If you are wanting to learn more about different Disney characters, you can find lots of info within the app. Here we navigate to learn more about our favorite mouse, Mickey! If you are using this app, you are likely already familiar with all of the characters, but it might be useful for entertaining your younger touring buddies while waiting in line.
If you are in need of information about the dining options at the Disneyland Resort, you can find a wealth of information to meet your needs. You can use the search criteria to help you find a dining option. You can learn about the price range, hours, and menu items. If it is a place that allows for reservations, it will even give you the number to to call Disney.
The Disney Mobile Magic app also has a variety of other information, including current weather and forecast. The app also provides information about guest services and transportation.
One interesting thing they threw into the app is a trivia game. This is another fun thing to pass the time while you are in line, ore to help with anticipation of an upcoming trip.
Assuming you have an upcoming trip, you can add the details in the app as well. However, it seems like a tedious process that is likely to be done by too many people. I suppose different people have different excitement levels that may make it interesting.
You are able to navigate around the main map discovering attractions and the park. It is a fun way to explore the parks we love so much!
Disney seems to have thought of everything, including their on-property hotels!
Note in the official description:
Verizon customers will have access to additional, premium features like more video and extra games within the app
Overall, it feels as if Disney put a lot of thought and effort into this application. In some ways, it seems like they put too much into it and made it bigger than it needed to be. There are enough features that it should have something for everyone, as different people tour the parks in different ways. Reportedly, there will be a new NextGen app being released by Disney that will obsolete this one. I think they have a lot of expectations to live up to between this app and the hype about NextGen. Let's see what the future magic holds!
Download: [itunes link="http://itunes.apple.com/us/app/disney-mobile-magic/id500000336?mt=8&uo=4″ title="Disney_Mobile_Magic"]
Official Description:
Disney Parks and Verizon present Disney Mobile Magic – a fun and simple way to get the most out of your Disney Vacation. Use GPS-enabled maps to get around the Parks, locate some of your favorite characters for a special greeting and even make dining reservations.

When you are in the Parks you can check official attraction wait times and Disney's FASTPASS® return times for the Park you're in. You can also play trivia and plan your upcoming visit with the Favorites feature.

And Verizon customers will have access to additional, premium features like more video and extra games within the app*.

Disney Mobile Magic, powered by Verizon, encompasses all of the Walt Disney World® Resort and Disneyland® Resort:

Seven Walt Disney World Resort Guides:
– Magic Kingdom® Park
– Epcot®
– Disney's Hollywood Studios®
– Disney's Animal Kingdom® Park
– Disney's Blizzard Beach
– Disney's Typhoon Lagoon
– Downtown Disney® Area
– Plus information on Dining and Disney Resort Hotels

Three Disneyland Resort Guides:
– Disneyland® Park
– Disney California Adventure® Park
– Downtown Disney® District
– Plus information on Dining and Disney Resort Hotels

Features:

Official Park & Attraction Information:
– Upon arrival into our Parks you will gain access to official wait times and FASTPASS® return times for the Park that you are in
– Review detailed information on attractions: photos, descriptions, locations, height requirements and more

Interactive GPS-Enabled Guide Maps:
– View each Park and it's attractions, dining, character greetings and more with our interactive GPS-enabled Park guide maps
– Once you are in the Parks, view wait times at a glance on interactive guide maps

Character Finder:
– Search for some of your favorite characters, find out where they are located, when you can meet them, and more

Dining Guide and Reservations:
– Explore our vast dining options by filtering your search by mealtime, location, cuisine type and more
– Check out restaurant menus and hours
– And best of all, make reservations right from your mobile phone

Favorites:
– Create a personalized tip board with all your must dos
– Plan your dream vacation by selecting favorite attractions, characters, and dining options

Games:
– Get in the Disney mood right away with the interactive Disney Trivia game — you can even challenge other Park guests with your Disney Trivia knowledge.

Verizon Premium Features*:
– Access to premium video content with over 100 behind the scenes, seasonal, sneak peak videos and more!
– Experience Pirates games that test your knowledge of the famous attraction and help determine your very own pirate name
– Beat the Disney Character Puzzle and see if you have what it takes to guess who the character is before the timer expires
– Take the Disney Character Quiz and find out which character is most like you

* Message and data rates may apply. Availability subject to handset limitations and features may differ by handset. Coverage not available everywhere. If you're under 18, get your parents' permission first.