Review : Star Wars Commander
March 3, 2015
Rating:
Price
: FREE (in-app purchases)
Download
: [itunes link="https://itunes.apple.com/us/app/star-wars-commander/id847985808?mt=8″ title="Star_Wars-Commander"] or
Official Site:
Star Wars
or
Disney
The Star Wars: Commander game has been around awhile already, but I finally gave into the temptation and gave it a try. I had seen a fair amount of advertisements and promotions for it, and I'm sure others have as well. I was a little leery of how interesting the app would be, but it seemed to be popular and worth a visit.
You will end up seeing the following screen VERY often. Each time you go to the app, even if it had already been launched, it will bounce back to this screen and reload.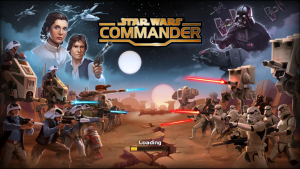 As luck would have it, the system was actually having problems the first time I tried to play the game! I haven't seen this happen again, so I seem to have just had really bad luck.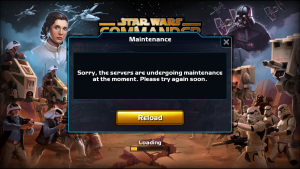 Most of Disney's (and really most developers) applications and games now utilize in-app purchases to make their money on these apps. You can play the app without paying any money, but it will be much slower and require a lot of patience. I personally do my best to resist the urge of paying any money for these kinds of apps, mostly to ensure that it is even possible to take that path.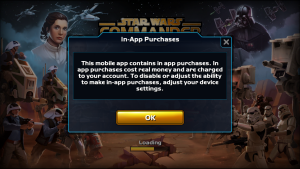 Next you'll see the intro that you'd hope and want at the beginning of a Star Wars adventure.
I somehow have lost the screen captures, but around this time you choose if you're going to be a Rebel or join the Empire. I chose to move forward as part of the Rebel Alliance. Your choice influences the storyline, resources built, and army trained.
You start off with building your HQ and base.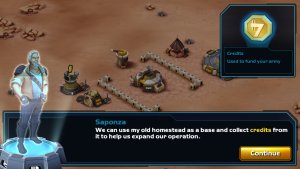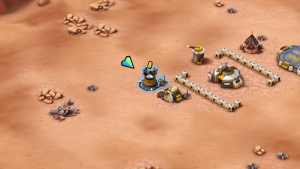 When you complete a task, battle, or defense of your base, you earn stars for how successful you were. If you get all the stars in a chapter of the story, you get a bonus. Unlike some games where you eventually have to go back to get all the stars before moving forward, Star Wars: Commander doesn't seem to make you do that. I haven't run into a roadblock like that so far.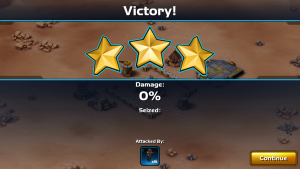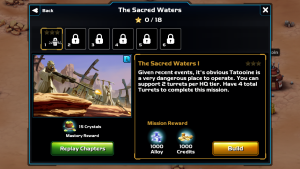 Conclusion:
Overall it is a fun and engaging game. It is a pretty common game-play that is offered with different themes in other apps. Having it also be Star Wars themed allows it to be particularly fun and interesting. I suspect that this will have some staying power, and will be expanded into many editions.
If you have tips and tricks for Star Wars Commander, please leave them in the comments below!
Download: [itunes link="https://itunes.apple.com/us/app/star-wars-commander/id847985808?mt=8″ title="Star_Wars-Commander"] or
Official Description:

Charge into battle on distant planets, and lead your troops to victory in this action-packed, combat strategy game! Build a base, recruit an unstoppable force, and challenge players across the Star Wars universe in Star Wars™: Commander!
During a time of Galactic Civil War, competing forces need allies for their cause. The Rebellion rallies for justice and freedom, while the Empire seeks control of the galaxy. Where does your allegiance lie? Will you side with the Empire's strength and relentlessness, or the Rebellion's heroism and resourcefulness? The choice is yours!
Rise through the ranks as a powerful battlefield commander in this exciting game of strategy and competitive galactic combat!
Features:
• Choose your side: Will you command AT-ATs and TIE Fighters as the Empire? Or call on iconic heroes like Han Solo and Princess Leia as the Rebellion?
• Build and defend your base: Train unique troops specific to each faction, and fortify your base with deflector shields, turrets, heavy artillery, and other defenses!
• Lead epic battles: Strategically deploy powerful armies, units, and vehicles against enemies and players around the galaxy!
• Form the ultimate Squad: Build strong alliances with friends and other players!
• Travel to multiple planets and complete special missions: Play an all-new story as a valiant leader on the front lines of the Galactic Civil War.
• Upgrade your strike team and its defenses: Strengthen your forces with multiple levels of upgrades for each unit!
• Download now and play in your choice of English, Chinese, French, German, Italian, Japanese, Korean, Portuguese, and Spanish!
Invade enemy territory and establish an impenetrable base as you join the battle for dominance!
For the best experience, we recommend playing this game on an iPhone 4S, iPhone 5/5s/5c, and iPads running iOS7 and above. Playing on an iPhone 4 may result in longer load times and slower performance.
Before you download this experience, please consider that this app contains social media links to connect with others, in-app purchases that cost real money, push notifications to let you know when we have exciting updates like new content, as well as advertising for The Walt Disney Family of Companies and some third parties. We respect your wishes regarding your Privacy. You can exercise control and choice by resetting your Advertising Identifier in your device's Privacy Settings.

Download: [itunes link="https://itunes.apple.com/us/app/star-wars-commander/id847985808?mt=8″ title="Star_Wars-Commander"] or