Swampy meets Tim Burton's Frankenweenie
October 4, 2012
Download: [itunes link="http://itunes.apple.com/us/app/wheres-my-water-free/id467810884?mt=8&uo=4″ title="Disney-Wheres_My_Water_Free"]
Having been pre-occupied with other life events, I haven't been spending as much time playing Pirates of the Caribbean: Master of the Seas. I logged in today, and was presented with some ads for 10 Levels of Frankenweenie inspired levels of Where's My Water?.
It took me a few minutes to realize it was NOT in the paid version, but ONLY in the Free version!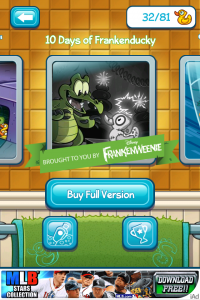 Once you load the video, it gives a short intro video that we are used to seeing before each chapter of the game.
To fit the theme of the upcoming movie, the coloring is shifted to mostly black and white. I think the overall look is really sharp and well done.
I really think they did a good job of "synergy" on this, in promoting the movie with the game! I do think it is a little odd that it is only showing-up in the free version, as you would think the paid version should get it too. I would think they could even get away with having a paid in-game upgrade for additional levels. Do you have any issue with the cross-promotional efforts like this?
Download: [itunes link="http://itunes.apple.com/us/app/wheres-my-water-free/id467810884?mt=8&uo=4″ title="Disney-Wheres_My_Water_Free"]